Recently, I celebrated another year around the sun, and took some time out to reflect on the past year of my life. It was a year spent mostly in lockdown while we fought to keep Victoria safe. A year when I worked the hardest I ever have, supporting my clients through some real crap, watching small businesses go under, and helping those in organisations who do terrific work so that they could support their staff.
And I'm proud – bloody proud, actually (and a little bit tired).
I challenged myself to keep training for a half marathon that didn't exist. I watched our Nanny Annie pass away in front of our eyes. I soothed my six-year-old and sat in her grief as well as my own as we lost another nanny figure. I watched my friends lose their beloved mother, right in the middle of the COVID-19 pandemic when lockdown restrictions meant there was no chance to honour an extraordinary human being. I listened as my clients cried with health issues and broken bodies, as friends reached out. My own heart broke for each and every one of them.
And yet, through it all, I dug deep, real deep …
Some days were utter crap, yet there were others when a word of encouragement was all I needed.
While we were keeping Victoria safe, I learned that I have much more resilience than I ever imagined. I learned that resourcefulness comes from the strangest of places. That I enjoy substance over surface when it comes to relationships, and the hope and gratitude I carry, well, some days, that's all I carried.
I have often been called Pollyanna – an optimist – as if it were a bad thing. I have come to embrace it. I realise I am happy – I'm not in need of an external "thing" to make me so because true peace has come over me.
I am intrinsically happy …
Perhaps it's all the crap the year has dished out. Perhaps it's the fact I have turned another year older. Or maybe this state of being has just happened, and I feel less chaotic and far more calm.
I have questioned whether it is happiness or contentment or peace or self-assuredness or all those things. It doesn't matter. Whatever you may call it, I am starting to see that even on the tough days, I can still choose hope, gratitude, and happiness.
I think it's about activating my own happiness. It's a nice place to be.
What about you? Are you happy? I mean really happy, deep down?
I'd love to hear from you. Feel free to email me at emma@emmamcqueen.com.au.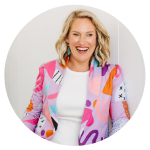 I'm Emma, and I'm a business and executive coach who believes wholeheartedly in the potential of women. My coaching philosophy is simple- taking action leads to results- and I love working with women in business and in corporate roles to take their passion and drive and transform their professional and personal lives.
Be enthusiastic, optimistic and energetic, every day.
Em x