EMMA BUSTS THE 12 MYTHS THAT LIMIT WOMEN'S GROWTH
How do successful women manage to break the glass ceiling, get paid their worth, grow their businesses, and rock their personal lives?
Do they believe they can have it all? Hell, yes, they do!
Are they superwomen? Hell, no, they ain't!
They just control their mindset and their mojo and thrive.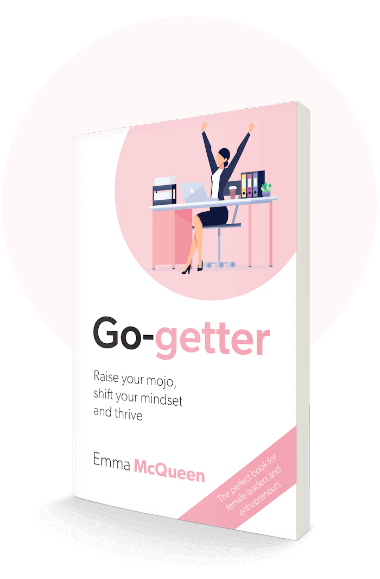 We want more energy, confidence, and financial freedom. We know that unless we step into the potential of our career or business, we will stagnate, and feel unfulfilled. The good news is this: There is a path forward through the myths that hold us back!
In Go-getter, Emma McQueen:
Busts the 12 myths that limit women's growth
Reveals the 12 truths so you can not only survive, but thrive.
Shares practical, actionable, and real-world ideas and strategies
Gives you the confidence to take your career or business to the next level.
What are you waiting for?
Go get 'em!
Discounts apply for orders of 2 or more books, so grab one for a friend!!
For bulk orders please contact me to discuss.
If you're a female business owner and want someone in your corner to cheer you on and work with you to smash all of your goals - and those you could only ever dream of - then Emma is your woman. In my time working with Emma (a smidge over a year) I have tripled my business revenue. I've never been afraid to work hard, but I have been afraid to charge my worth. Emma is a genuinely beautiful human being with a smart head for business and a great coaching technique contextualised to your needs. She'll help you get out of your own way and show the world all that you can - and should - be! I couldn't imagine not having her in my corner.

Tanya Heaney-Voogt
Leading Positive Workplace Change
There's no doubt about it. Being female, running a household, leading people, running a business, caring for family…. it takes resilience, resources and getting the right people around you. Having worked with Emma myself she walks her talk and is the real deal. From start to finish Go-Getter is full of such valuable insights, practical mindset and business advice that is incredibly refreshing. At times I felt like she was reading my mind! Reading it reminded me to be my own best friend, to stop losing time on the perfectionism and run my own race without worrying what others think of me. I wish I had this book when I started my career in leadership and my own business years ago
Jane Anderson
Jane Anderson
Before you commit to reading this book, I ask one question: "Are you prepared to have your mind changed?" If you are, and this is your motivation for picking up this book, by turning its pages, you will be compelled to act. To do something. To make change happen, you are in charge, and in your hand is a way forward. It is a book overflowing with insight, gems and generosity, but I must say, nothing surprises me about it, for I have got to know the person who penned it. Emma McQueen is a leader. Real leaders beget leaders. Yes, leaders attract followers, but generous leaders, those who embrace teaching, attract leaders. The book is not a page-turner; it is a page-pauser. You will be reading it, and then you will stop reading it. It will demand you pause and reflect. This is a gift. It is now your gift.

Cameron Schwab
Design CEO
Looking for the Go-Getter
resource?